About Susan Baggerly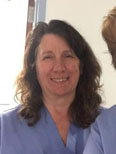 Susan started her career in nursing 36 years ago in a large teaching hospital in New Jersey and continued her career in a rural teaching level II trauma hospital in Pennsylvania. She has 28 years of experience in cardiac care, post-open-heart surgery, and various interventional cardiac procedures. Susan is also ANCC board-certified in Medical/Surgical nursing. She has precepted students and new nurses in both ASN and BSN nursing programs.  Susan brings nursing to life and helps the student nurse's understanding.  She also assisted in the opening of a new Hospitalist unit, providing input and creating policies for the unit. On this unit, she provided care and educations to patients requiring isolation and educating them in infectious disease protocols and interventions.
Susan also worked in the GI suite and provided education to patients receiving procedures. Susan monitored patients during the procedures under conscious sedation and assisted the physicians during the procedure.  Susan brings another experience to her students.   For the last five years, Susan has specialized her skills in a pulmonary unit.
Susan is a mother of two grown children, one grandchild.  She loves being a grandma.  She loves gardening, animals hiking, and the beach.  But most of all she loves seeing new nurses succeed.  Susan is your tutor with over 36 years of teaching experience. She is your tutor, ready to help you realize your dreams.