About Susan Baggerly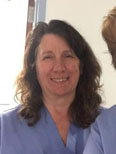 Hi and welcome to The Student Nurse. My name is Sue. I have been a nurse for 36 years. I love the career I chose and have stayed at the bedside throughout my career.
I have spent my career working in teaching hospitals. I worked six years in a large teaching hospital in New Jersey. For the last 30 years, I have worked in a rural Level 2 trauma teaching hospital.
My main experience is in cardiac nursing as I spent 28 of my 36 years in this area. In my experience, I have worked on the post-open heart surgery floor, telemetry unit, cardiac catheterization lab, and in other interventional cardiac procedure areas. I am board certified in Med/Surg nursing.
Most recently, I worked on the pulmonary unit which was adjacent to the labor and delivery unit. On that unit, I took care of the pulmonary patients as well as overflow GYN/non-laboring patients.
Teaching was always a passion of mine, whether it was new graduates, students, new nurses to the facility, or patients. I really enjoyed precepting the senior nurses in the transition program, mentoring them as they made the transition from student nurse to graduate nurse. It was a chance to help them put their theory into practice by giving them the best experiences and challenges all why working side by side. I used this opportunity to help the student navigate through the chart and see how medications ordered, lab values all fit the patient's diagnosis and treatment plan.
During my career, I've had to opportunity to assist in the opening of new specific units. I collaborated with other staff to create the workflow, plans of care, and teaching material for these units.
Nursing is teaching. There is always an opportunity to educate.
On a personal level, I have been married to my soulmate for 32 years. We have 2 grown children and one grandson. My daughter took the path of nursing like her mother. My son also works in a hospital in the pharmacy department. I enjoy the outdoors whether it be hiking, gardening, or sitting on the beach. I recently started painting, my favorite being landscapes.
I am looking forward to helping you succeed!
TESTIMONIAL
Before graduating nursing school I was already so anxious and overwhelmed by the thought of taking the NCLEX. I knew I needed to obtain help — more help than most students. I was paralyzed in fear of even the thought of the NCLEX. When someone I knew had mentioned she had hired a tutor, I knew that is exactly what I needed to do. I needed someone to hold me accountable, to push me to study every night. When I contacted Sherrie, it was seamless — she made me feel so welcome, she then paired me
with Susan and this was the absolute best thing that could have ever happened. Susan was there for me every step of the way, texting, calling, anything I needed, even when I didn't have motivation she pushed me and checked on me. I had never felt more prepared for anything in my entire life, I never thought that would ever have been possible. However, Sue and Sherrie made it so possible. I will forever be thankful for the amount of guidance and teaching I was given! The only thing I would change is starting it earlier!
Katelyn, RN